Hey all! So I have something exciting to share! Anyone catch the pilot episode of Best Friends Forever on NBC last Wednesday??? Well let me first start off by telling you that my sister sold a picture of her and I when we were tap dancing as kids to "Awkward family photos". It's hilarious b/c it's of us in these clown costumes, in "jazz-hands" like pose. So anyways... yesterday I'm checking my facebook and an old friend from my childhood friends me. She immediately comments on my page with that same picture and asks me if it was my sister and I? Turns out that the new show bought our picture for their opening credits! So if you get a chance to watch it.... this is our picture:
It's literally show for like .5 seconds... but we are so excited!
Now onto other things... I was tagged by Connie at Creating Kinders to answer some questions... so here they are!
10 questions I need to answer...
1. What grade do you teach?
Kindergarten =)
2. What was your first job ever?
Busser at a restaurant when I was 17... and I stuck with it for 2 years before I was "promoted" to a prep cook for year.
3. Favorite TV show right now?
I have a ton.... New Girl is #1... but I'm loving Broke Girls, GLEE, Modern Family, Parks and Rec, The Office, Grey's Anatomy, The Mentalist, Criminal Minds, CSI, and CSI: Miami....
4. Favorite theme to teach?
I don't have a favorite theme... but I love to teach writing! I think it's so fun to see what my kiddos come up with and to encourage them to use their imagination and see how they grow as writers throughout the year.
5. If I won $1000, I would...
Pay off some of my CC debt- fo sho!!!
6. What are your summer 2012 plans?
I'd really like to find a 2nd job to help pay some CC bills off, so I can have some more fun next year!
7. Casual or dress clothes for work-school?
We have to dress professionally at school, except on Fridays- we can wear jeans! I def. love jean days! =)
8. Favorite go to meal at a restaurant?
Definitely the Chicken finger plate meal at Zaxby's... I love the Zaxby's sauce and their french fries... =)
9. What's for dinner tonight? Well I'm staying with my parents for Easter weekend and we had pork chops, home made mashed potatoes, and corn on the cob.... the best part- fresh out of the oven brownies and vanilla ice cream on top for dessert! (I'm such a fatty! haha)
10. Name 2 blogs you love right now
Just 2???? Well I really enjoy reading everyone's.... but the first 2 that come to mind are: Little Warriors and Welcome to Room 36!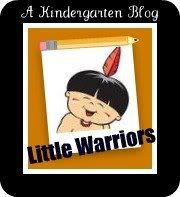 Well, I'll think of some questions to ask more because my family is watching "Hop" right now for the first time and I don't want to miss it!!!!
HOPPY EASTER!!!!